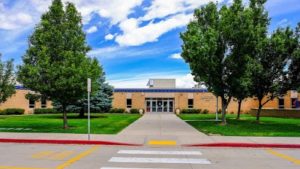 Westvale Elementary, located in a growing area of West Jordan City, serves a diverse community. The school values all students academic and behavioral needs. We do our best to help students gain a good foundation in basic skills as well as develop a sound social/emotional foundation.
Westvale Elementary serves 573 students in grades K-6.

The school uses a Traditional year calendar based off of quarters. 

The school day begins at 8:25 a.m. and ends at 3:05 p.m. except for Fridays when school is dismissed at 12:30 p.m. to allow teachers time for planning and to conduct meetings.

Westvale opened in 1967 which makes it one of the oldest elementary schools in the district. Westvale has received extensive remodeling bringing it up to current state standards.

The curriculum follows State and District guidelines, and meets all requirements for elementary students.

Teachers in each grade level work as a team to meet the needs of all of the students in the grade.

All staff members are formally evaluated on a regular basis to assure quality education in the classroom.

Special education services are provided for students with learning disabilities and speech, visual, hearing, language and behavioral handicaps.

Bus service is provided for all students who live 1-1/2 miles or more from school. About 40 percent of our students qualify to ride.

A nutritious hot lunch is prepared each day in the school cafeteria. The student price is $2.00 per lunch. Westvale Elementary also serves breakfast each morning.  The student price is $1.05 per breakfast. Free and reduced price breakfasts and lunches are available to qualifying students.
An active

PTA

, School Community Group, and Parent Volunteer program give parents many opportunities to be involved at school.

Visitors are always welcome at Westvale. State law requires that all visitors first check in at the office before visiting classrooms.

Our teachers create an exciting, motivating learning environment in the their classrooms.
Enrichment Opportunities
Ask the front office about enrichment opportunities at Westvale
Chess Club
Robotics Club
Orchestra
Choir
Math Olympiad